Pull out those sketchbooks friends. I know it is hard with the weather being so nice but consider taking your drawing outside to help inspire you and maybe even catch some rays while sketching.
Only 2 more sketchbook prompts till we hit 10 and I am contemplating on things we could change to make it more interesting so more of you stay involved. If you have any cool suggestions leave a comment below, I would love to hear them!
Sketchbook prompt #8
Open to a fresh sketchbook page and draw out your perfect picnic. What foods do you pack? What do you carry it in? Include as many details as you feel necessary.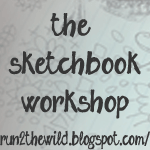 My picnic would include chicken salad sandwiches, watermelon, lemonade, potato salad and strawberry shortcakes for dessert! On a rainbow Mexican blanket!
Don't forget you can catch up and link up with all the prompts by clicking the yellow triangle in the side bar that says free sketch prompts!