I am really excited about this weekend because I will be going out for Saint Patty's day which by the way is this Saturday the 17th. The crazy thing is... and this always happens to me is that I don't have anything that is green to wear so I don't get pinched. Which is always a big shocker to me because I like to keep my closet looking like a rainbow but I still never buy anything green. So instead of buying a shirt that I will probably never wear again I decided to make a fancy little shamrock hair clip that is so sparkly that no one will miss my bit of green.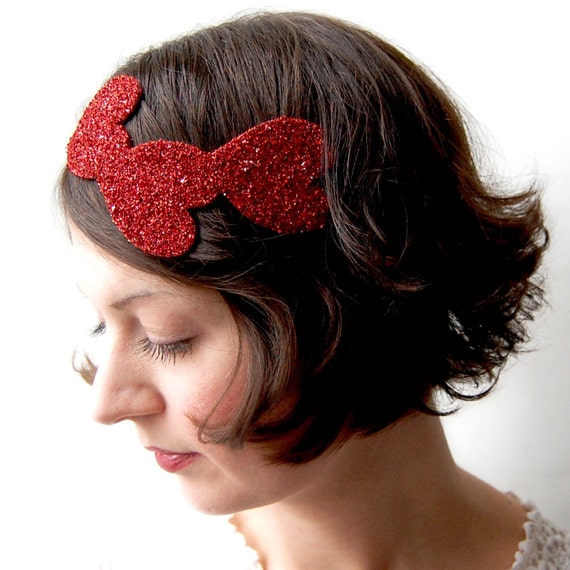 Honestly I was inspired by this lovely hair band created by the etsy shop Giant Dwarf
Her hair accessories or shall I say works of art are made from crushed glass German glitter so they are a little expensive but you better believe if I had the money I would have one!
So to begin... I started by drawing a shamrock or 4 leaf clover on paper. I did do this a couple of times to get it just right. You can also get online and print a example out and trace if you need too. I then cut my template out and pinned it to a piece of green colored craft foam. Available at wal-mart or any major craft store.
Next I cut around the template and applied elmers clear school glue with a brush generously on one side. Note: Any glue will probably work.
I then poured green glitter over the glued side. Notice I missed some spots. When the first layer dries it's best to go back and fix those spots then to keep from knocking off more glitter.
Using my trusty glue gun I attached a hair clip. Obviously you could exchange this with any kind of hair clip you like or even just a bobby pin. You could even attach it to a hairband or pin. What about a shoe clip... that would be cute!
And taddaaa you have a beautiful sparkly shamrock hair clip that will keep those pinchers at bay!
I can't wait to sport it saturday night!! :D Very excited...
I even made some for my sisters and friends!
Happy Early Saint Patrick's day!!

P.S Don't forget to follow my blog for more interesting posts and check out the giveaway tab above for a chance to win this dream catcher for March. (it is super simple promise!)